Protest in support of Polish Women's rights
Saturday, 31 October 2020, 5 PM, Stadhuisplein, Tilburg

JOIN US IN SUPPORTING THE FIGHT FOR WOMEN'S RIGHTS! 💪⚡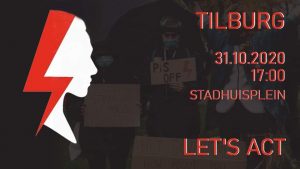 On Thursday, October 22rd, 2020 Polish Constitutional Court ruled abortion in case of "severe and irreversible fatal defect or incurable illness that threatens the fetus' life" illegal. This means almost a total ban on abortion in the country.
Hundreds of thousands of our sisters are on the streets protesting this cruel decision. Let's show them our support and love! 💪
Let's make the world know what is happening in Poland! 📢
In this time we have to stand together, no matter what country are we from, what do we believe in, what is our culture or age. Let's show them that we hear them, and we've got them.
Join us in supporting Polish superheroines! 🦸‍♀️Come to the square next to the city theater on Saturday at 5 PM!
Bring your banners, bring your energy!
Let our shouts be heard in Poland! 🇵🇱
Because Women's rights are humans rights! 💪
*By taking part in the demonstration you're agreeing to obeying the code of conduct (see below)* Continue reading →